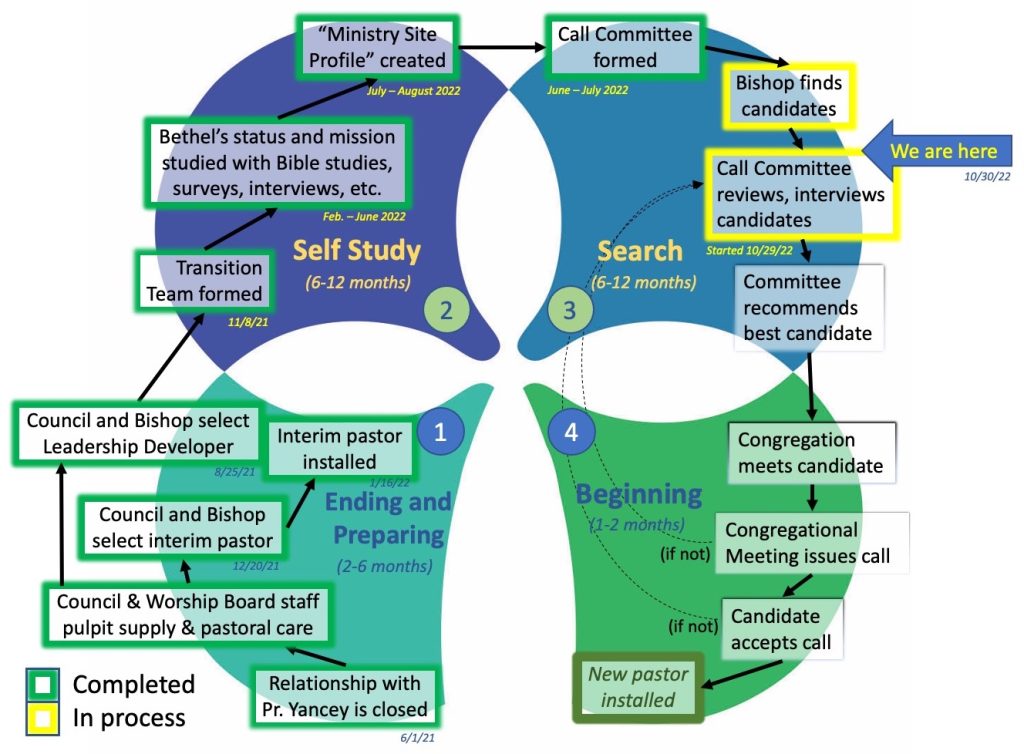 Click here for the latest update from Transition Team, May 25 2022
As of June 1, 2021, our pastor, the Rev. Dr. William L. Yancey, has retired from congregational ministry. As a result Bethel is now in the exciting and daunting position of selecting our next long-term pastor, and seeing to our ministry in the interim. This page attempts to answer your questions about this process.
Q: Where are we? What's happening right now?
A: After six months or so of searching, we selected Pastor Merle Brockhoff as our Interim Pastor. As such, he fulfills two roles: he is our Pastor (leading worship, counseling people who seek help, and everything else we expect a Pastor to do); and he also leads and counsels us through the Interim process. (While we were seeking an interim minister, we hired Pastor Roger Gustafson as a Leadership Developer to help with the latter, so that process could get started earlier; once Pastor Merle arrived, Pastor Roger stepped back.) Pastor Merle's first day at Bethel was January 15, 2022.
We then spent about six months in self-study. This self-study process was led by a Transition Team and included Bible studies, surveys, interviews, and other tools; the goal was to discern Bethel's mission at this time, and identify strategies to get there. This has now been written in the form of a standardized document called a Ministry Site Profile, which when filed with the ELCA represented the completion of this self-study phase and the beginning of the next phase.
Now we are in the Search phase. We have selected a Call Committee of seven voting members of the Congregation, who are working with Pastor Merle and the Bishop to identify, review, and interview candidates for the position of our next long-term Pastor. During this phase there will be relatively little communication, in that the Call Committee's deliberations and even the identities of the candidates are confidential.
Q: How long is this going to take?
A: Probably between 2 and 3 years, but we don't really know. One of the biggest unknowns is how long it will take to find a good candidate (in phase 3, "Search"), since there is a nationwide shortage of pastors.
Q: The diagram is nice, but what does it mean? Can you tell me more about the process?
A: Yes, at the Transition Process page.
Q: Can I still call Pastor Yancey?
A: Of course you can call him, but as a matter of professional ethics Pastor Yancey will not be taking any pastoral role with Bethel that might in any way be seen as interfering with the new (interim or permanent) pastor. See this page for more details.
Q: Are there any statistics on pastors within their synod vs. coming from far away?
A: The ELCA doesn't keep these type of statistics. The candidates can come from anywhere in the USA as long as they are rostered Pastor in the word and sacrament.
Q: Is Bethel committed to a "sole pastorate"?
A: At this time, we are planning to call one pastor. Though, this decision is at the full discretion of the congregation and is dependent on the budget to support the salary and benefits of more than one pastor. Additionally, it would require more detailed deliberations regarding the specific responsibilities for each position. For example, are these roles co-pastors, senior and associate pastors, senior and youth pastors or pastor and deacon.
Q: Can we call a rostered member of another affiliated denomination?
A: We may interview a pastor from one of our common mission churches (Methodist, Presbyterian, etc.), but we must go through the Bishop's office for approval. We would complete a referral form and submit it to the Assistant to the Bishop, Rev. David Whetter. Our Bishop would contact the Bishop of the other denomination and determine if we can interview the candidate. If we can interview that candidate, the call committee would receive that person's information and proceed with the interview. If the call committee would recommend this candidate and the congregation voted for this candidate to be our pastor, we would be entering into an assignment and not a call. The details of salary and benefits would be negotiated with that denomination's Bishop and our ELCA Bishop would no longer be involved in those details. This pastor would then have to maintain their pastoral responsibilities and attend the meetings of both the ELCA and their denomination.