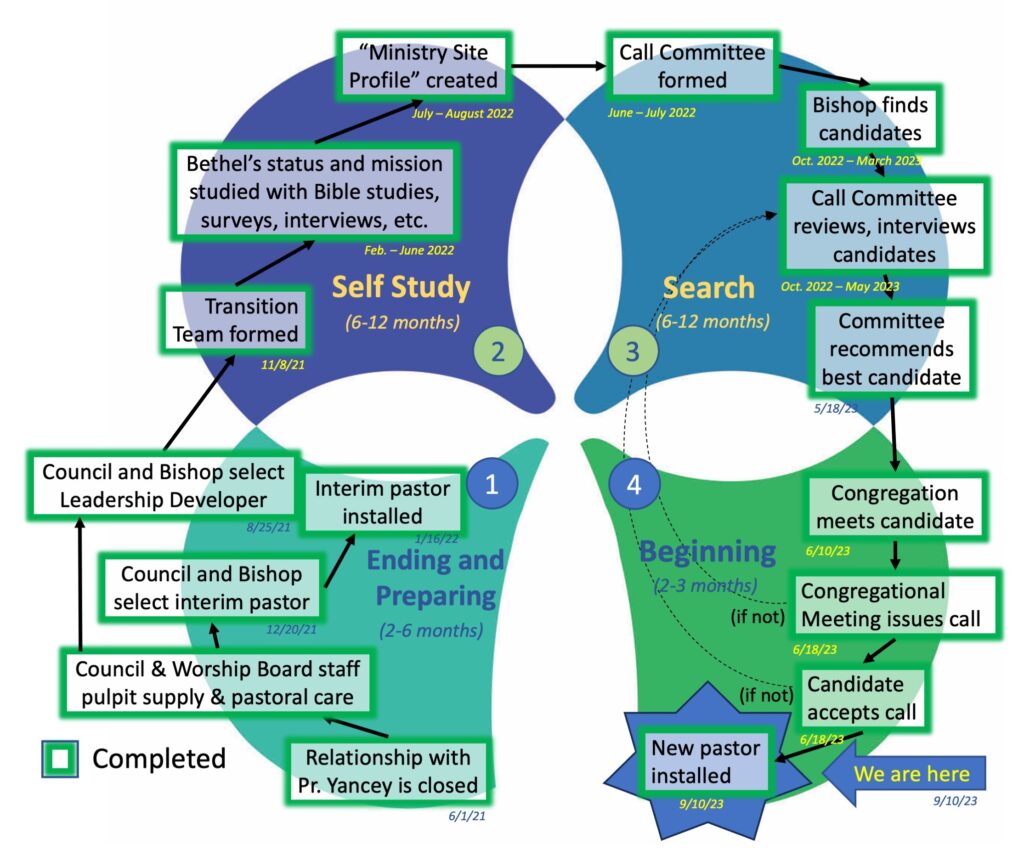 Effective June 1, 2021, our previous pastor, the Rev. Dr. William L. Yancey, retired from congregational ministry. Bethel then spent about two years in the process of selecting our next long-term pastor, while seeing to our ministry in the interim.
In June 2023, the Congregation called the Rev. Scott Benolkin to be our new Pastor, and he has accepted the call! He started as our Pastor on August 22, 2023; his formal installation was on September 10.
This page attempts to answer your questions about this process.
Q: Where are we? What's happening right now?
A: After six months or so of searching, we selected Pastor Merle Brockhoff as our Interim Pastor. As such, he fulfilled two roles: he was our Pastor (leading worship, counseling people who seek help, and everything else we expect a Pastor to do); and he also led and counseled us through the Interim process. Pastor Merle served Bethel from January 15, 2022 to April 15, 2023.
During that time we first spent about six months in self-study. This self-study process was led by a Transition Team and included Bible studies, surveys, interviews, and other tools; the goal was to discern Bethel's mission at this time, and identify strategies to get there. This was written in the form of a standardized document called a Ministry Site Profile, which when filed with the ELCA represented the completion of this self-study phase and the beginning of the next phase.
We then entered the "search" phase, starting with selecting a Call Committee of seven voting members of the Congregation. They worked with Pastor Merle and the Bishop to identify, review, and interview candidates for the position of our next long-term Pastor. All of the Call Committee's deliberations and even the identities of the candidates were and remain confidential.
The Call Committee after much deliberation unanimously and enthusiastically selected the Rev. Scott Benolkin; and the Congregation Council, after the Call Committee shared this with them, also unanimously and enthusiastically recommended him. He visited Bethel on June 10, 2023, to allow Bethel members to meet them; after this, the Congregation met on June 18 and formally voted to call him, and he accepted the call. His first day on the job was August 22, 2023, and his formal installation was on September 10.
Q: The diagram is nice, but what does it mean? Can you tell me more about the process?
A: Yes, at the Transition Process page.
Q: Can I still call Pastor Yancey?
A: Of course you can call him, but as a matter of professional ethics Pastor Yancey will not be taking any pastoral role with Bethel that might in any way be seen as interfering with the new (interim or permanent) pastor. See this page for more details.