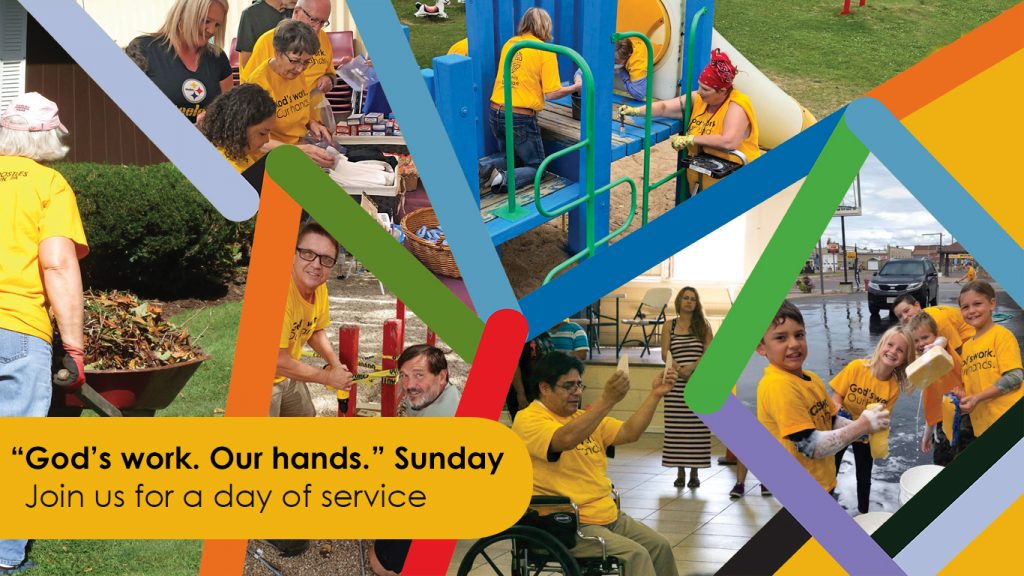 The sign-up instructions for "God's Work. Our Hands" group projects for August 28 and 29 are at this link: https://www.signupgenius.com/go/10C084DABAE2CA4FC1-gods. Sign up by August 23, please. But if you're more interested in things you can do as an individual or family group, here's a list of ideas you can start any time!  Don't forget to take pictures to share! Contact Deb Grupe with any questions at deb.grupe@gmail.com or text her at 314-583-4159. Our celebration of all of our "God's Work. Our Hands" projects will be part of our gathering on Sunday, September 13.
COMMUNITY SUPPORT
+Bake goodies for a local police/fire department. Deliver with a thank-you note.
+Write Love Notes for the St. Louis Area Diaper Bank or St. Louis Alliance for Period Supplies.
+Plan and start fall crops that you can share with neighbors or a food pantry; or donate your current surplus vegetables.
+Assemble first period kits for local school districts and social service agencies (St. Louis Alliance for Period Supplies) or collect and donate period supplies for emergency kits.
CRAFTS
+ Knit, crochet, or craft from felt, sets of finger puppets for our youngest Sunday School students. See https://www.instructables.com/id/Finger-puppets-for-all-reasons/ or Pinterest for ideas. We need Jesus, baby, Mary, Joseph, angel/s, ordinary people, king, donkey, sheep.
+Knit or crochet "prayer squares" for SS and others, which can be held during prayer time. Link for patterns from WELCA: https://www.womenoftheelca.org/wp-content/uploads/2017/12/Prayer-Square-instructions.pdf
+Sew, crochet, or knit pouches (about 6"x9") for the Alliance for Period Supplies, for "first period kits." Links to some directions: https://elizabethmadethis.com/7-minute-diy-zipper-bag/
or, more involved: https://www.sewcanshe.com/blog/2018/10/19/diy-cute-corners-cosmetic-case-free-sewing-pattern  For a free crocheting pattern, go to https://www.allfreecrafts.com/crochet/bags/cosmetic-bag/
+Do you have t-shirts, jeans, etc., that have seen their better days? How about tug toys for shelter pets? Check Pinterest for ideas. Here are 2 examples: http://www.sewhistorically.com/5-different-diy-no-sew-t-shirt-dog-toys/   or for denimà  http://www.sewhistorically.com/5-diy-no-sew-recycled-denim-dog-toys/
ADVOCATE!
+Bread for the World https://www.bread.org/2020-offering-letters
+ Advocacy for children's hunger issues (template letters)
+https://blogs.elca.org/advocacy/august-recess-opportunity-2/ provides other ideas for advocacy
COMMUNICATIONS
+Use sidewalk chalk to write messages of love and care on your driveway or sidewalk (or a neighbor's, if you know they will be okay with it).
+Call one, a few, or several Bethel members you haven't spoken with for awhile, and remind them that they are being thought of!
+Write cards/letters of support to local frontline workers. We have some in the congregation. or you can write generic messages to deliver to a local hospital/fire station/police dept, nursing/retirement home.
Don't forget to take photos of your involvement—we'd love to share them with other members of the Bethel family!