As an extension of ELCA ministries, Bethel participates in "God's Work. Our Hands" each fall. This year we observe the event in pieces! On September 9, 10 and 11, we had a number of ways to participate across the generations, followed by a second weekend of projects in October. 
September 9: Cindy and Deb met the team at A Red Circle's  Agricultural Education Center (morning only) in preparation for Saturday's visit.
September 10: garden cleanup for A Red Circle to help them prepare for their big fundraising event.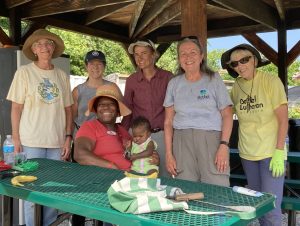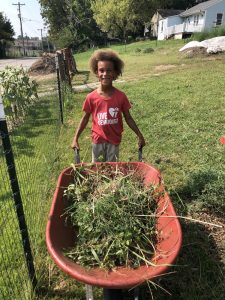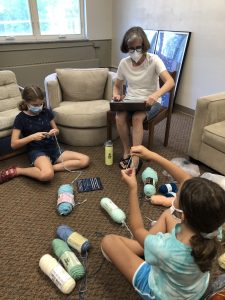 Another group worked on our baptism blanket project under Kristin Soifer's leadership.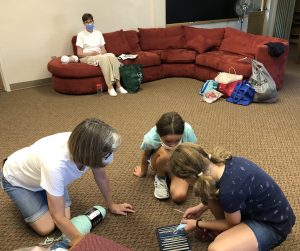 A third project was a trip to EyeSeeMe bookstore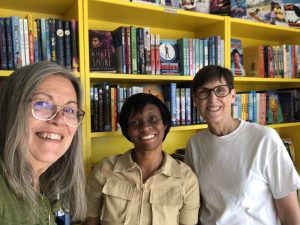 to purchase books for new Little Free Libraries being erected in north St. Louis neighborhoods. 
September 11 was Rally Day, and we celebrated the launch of a new education year at Bethel. We had a couple of coloring projects for younger children, and for the older ones (and adults), a few people worked on  turning adult-size t-shirts into tote bags for guests of Covenant House; a project we first encountered at this summer's Rock, Paper, Scissors third event. We also began our collection of personal items for Covenant House residents, headed up by Debbie Kennedy.
"God's Work. Our Hands" at Bethel has for numerous years dedicated a morning to working on a specific service project in our greater St. Louis neighborhood. This year Bethel members assisted with tasks at two different homes for elderly, disabled University City residents through Safe Homes for the Elderly and Disabled (SHED) on the morning of Saturday, October 8. This was a great opportunity for fellowship along with discipleship! (Lots of time for talking while raking or pruning or painting.)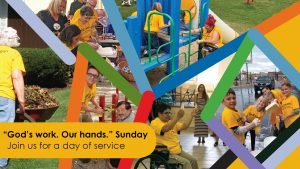 These projects were arranged by Wayne Flesch, coordinating with SHED.
On Sunday, October 9, our "God's Work. Our Hands" adventures for 2022 culminated with a hunger focus. At our Sunday morning Forum, Ruth Meinzen-Dick talked about growing up in India and how her experiences there led her to her current career centering around hunger and development issues worldwide. She also encouraged attendees to support Bread for the World, especially the annual Offering of Letters, to ask our Senators to support reauthorization of the Global Food Security Act.
At worship on October 9, some Sunday's Cool children passed out special paper bags with shopping lists on them. On any Sunday, you may also bring those bags filled with nonperishable foods for Good Ground Pantry. There are still empty bags available for you to pick up if you missed this service.
With opportunities indoor and out, hands-on labor or crafts, learning about helpers in the community, or shopping for those in need, we succeeded in providing opportunities for a variety of ages and interests this fall!