1. Second Sunday Summer Surprise!
2. First Sundays!
3. Cross+Generational Service/Learning Trip, Summer 2023
1. Second Sunday Summer Surprise!
This summer, we are again holding intergenerational events in place of Bethel's VBS. Sunday afternoons turned out to be a great choice for 2022's "Rock, Paper, Scissors," so the Walker family is again hosting events the second Sunday of each summer month from Noon to 2pm. Contact Deb Grupe if you need information. Come to one session or all three!    Our theme this year? 
Earth, Wind and Fire: what's that Holy Spirit all about?
June 11: Wind
We enjoyed Ron's great cooking again, heard about the disciples and the first Pentecost, and about God's breath and the wind of Pentecost!  We did a quiet breathing exercise before moving to our activities: making pinwheels, and our take on Tibetan Prayer Flags!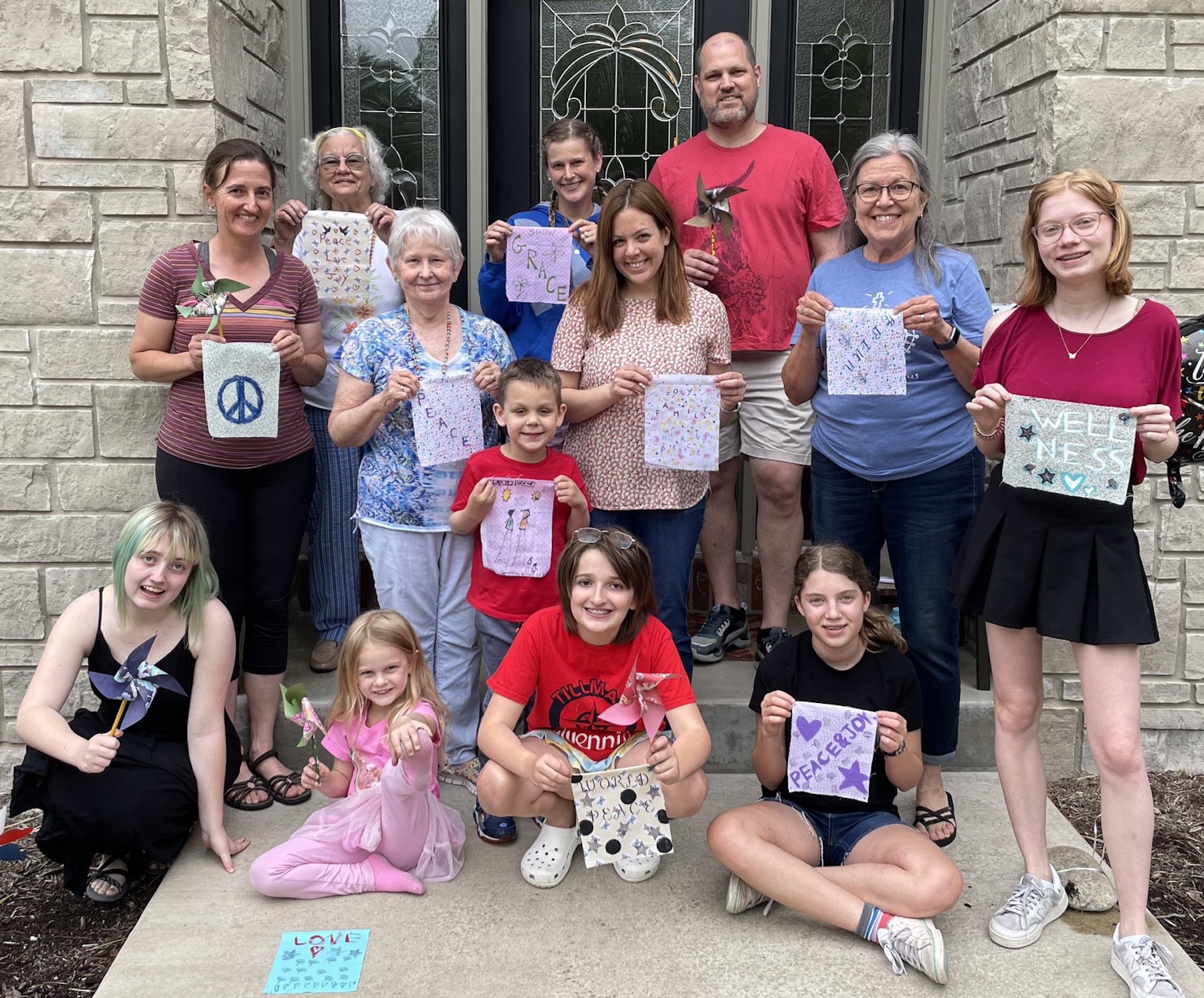 July 9: Earth (and Water!)
 We read about the "fruits of the Spirit" and talked about how God's Spirit grows these  fruits in our lives. Then we made "grasshead" friends to take home, and as the grass grows, we can remember that God is growing fruits in our lives.
August 13: Fire! 
Noon to 2:00 pm. Lunch is included. We will hear about the gifts and the energy the Spirit gives us and the fire planted in our hearts. We will review all of the images we have talked about this summer regarding the Spirit's action. Then it's on to a special art project to share with our Bethel friends in worship about all we have learned. Location: 715 N. Speed Rd., 63141 (park on Spoede Woods Drive). RSVP to Marie appreciated but not required.
2. First Sundays!

What's First Sunday? Think of it as a supplement to our Sunday worship, with additional opportunities for all ages to participate actively. We're building on the success of earlier experiments like 5th Sunday of Service and Rock, Paper, Scissors.
When does this happen? Our initial "First Sunday" event was on All Saints Sunday, November 6 — and we shared stories about saints in our lives, and what makes someone a saint (news flash: it's about God's perfection, not ours!)  See photos below from our "First Sunday" experiences in November, December, February, March, and April. 
Watch announcements in the Bethel Connection and at church, for details on future First Sundays beginning again in October or November!
What can we expect? Lots of smiles, laughter, singing, and conversation! At each First Sunday, we will nibble on breakfast treats, sing (led by members of Bethel's Worship Band), do some kind of craft or service project together, learn from Scripture, and enjoy this time together before our Communion worship. 
Why are we doing this?
First Sundays provide an intentional Cross+Generational opportunity for all ages to interact with one another in a more relaxed setting, learn about and share God's love, and grow even closer to God and to one another.
Brought to you by…
Bethel's Faith Formation team. Watch for more details here, in the bulletin, on Facebook, and in the Bethel Connection. Contact Deb Grupe (deb.grupe@gmail.com) with questions or offers of help (for example, providing treats, setting up on Saturday morning, leading a song or activity). Anyone is welcome to help plan or carry out a session! Below are summaries from our 2022-23 First Sundays.
April 2: "Pave the Way!"
This First Sunday featured two new hymns ("Pave the Way with Branches" and "Blessed Is the One"), a reenactment of the Palm Sunday Gospel reading, and four separate activity stations! 
March 5: "Let Us Pray"
We learned about praying through doodling, through origami and through clay creations. Two of our Confirmation students led us in the Lord's Prayer and we watched a video of, and sang, a beautiful setting of the Psalm for this Sunday, led by Bethel musicians Steve and Sherman.
February 5: "We are Salt and Light!"
We talked about the usefulness of both light and salt. Why did Jesus say we are salt (of the earth) and light (of the world). We sang "Christ, Be Our Light" and signed some of the words. We talked about how A Red Circle is being salt and light in North St. Louis County and prepared buckets for a "Noisy Offering" for the following week's worship service — for A Red Circle, our Super Bowl of Caring effort, along with a food collection for God's Helping Hand in St. Louis' "The Ville" neighborhood.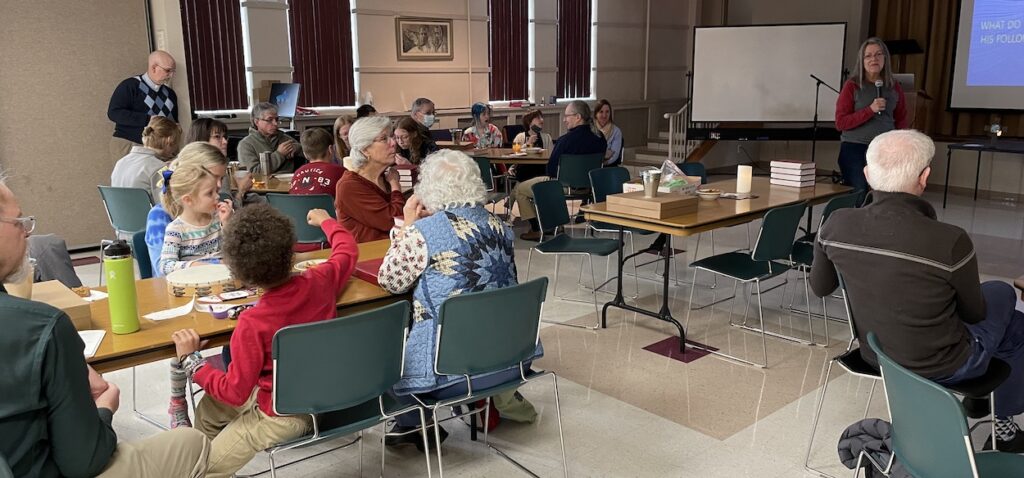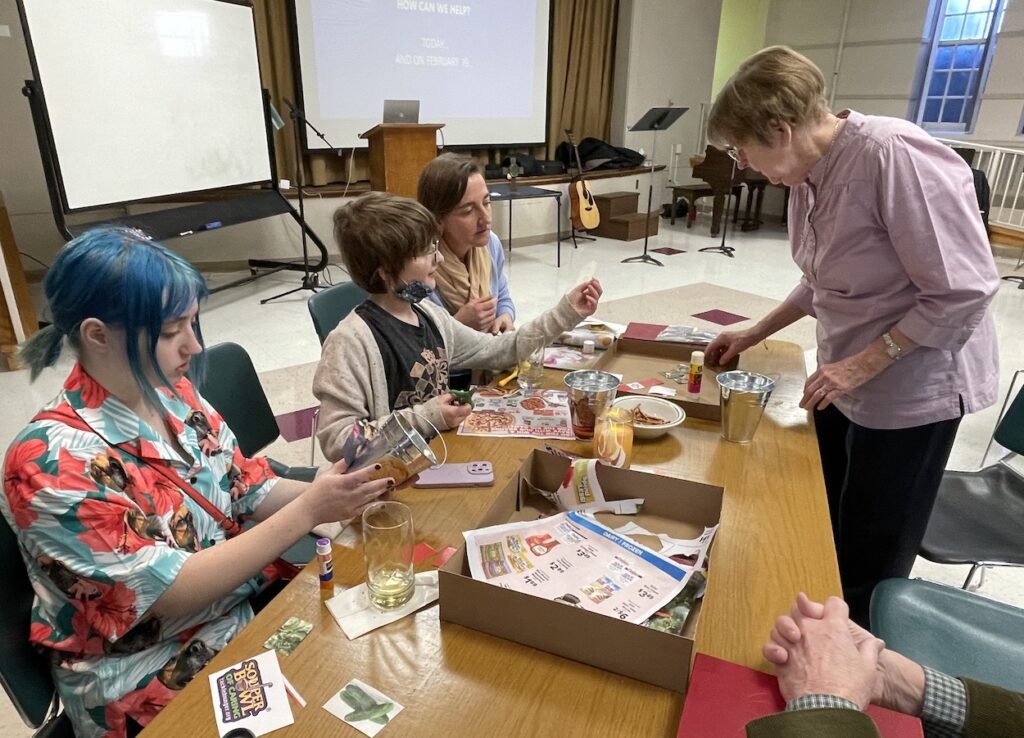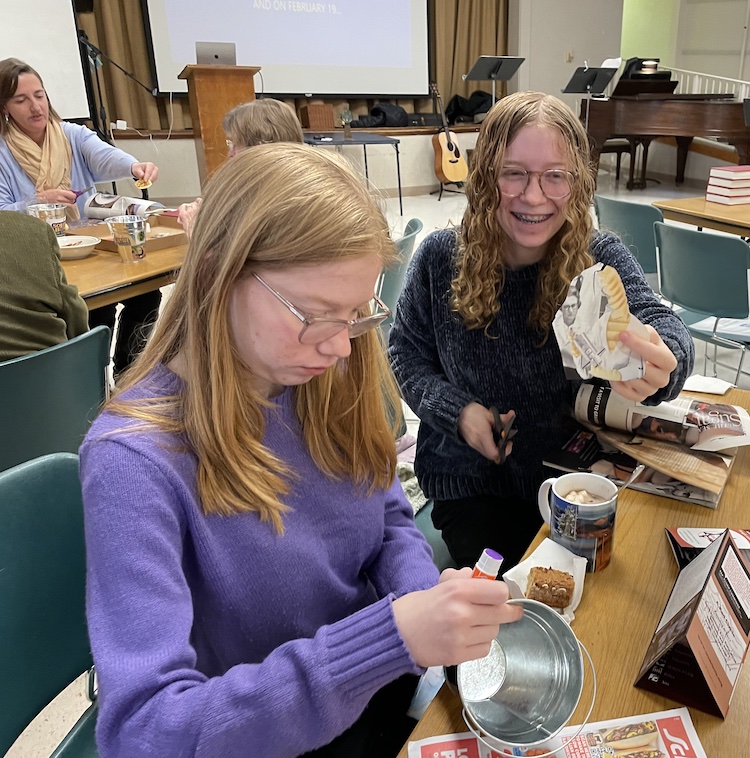 December 4: Showing the Way — welcome to worship on Christmas Eve
On December 4, our theme was "Showing the Way!" We made luminaries for a Christmas Eve worship welcome!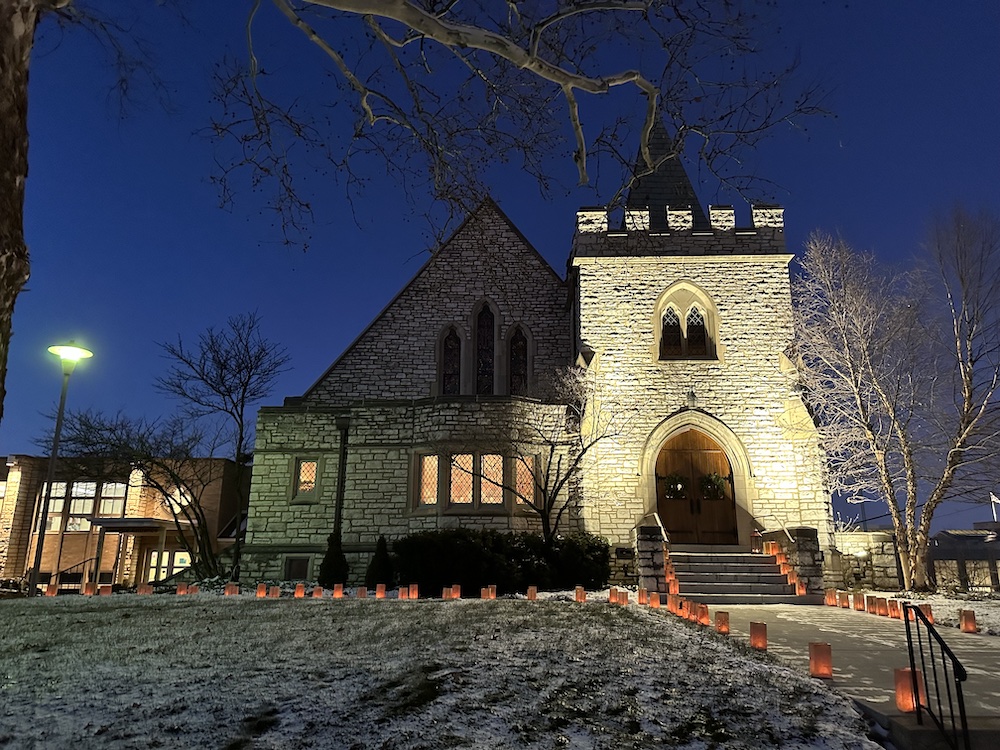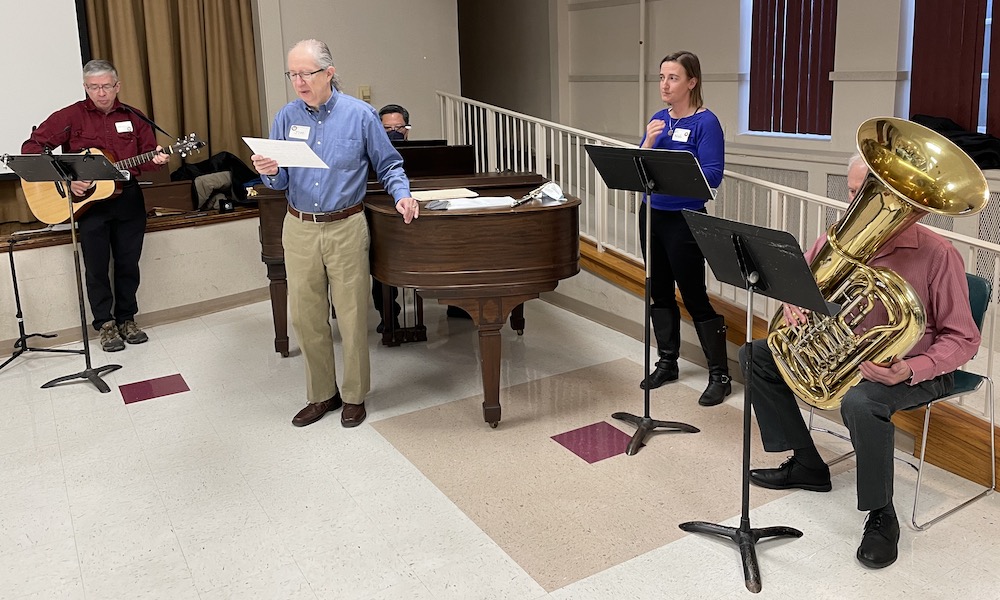 November 6, All Saints Sunday: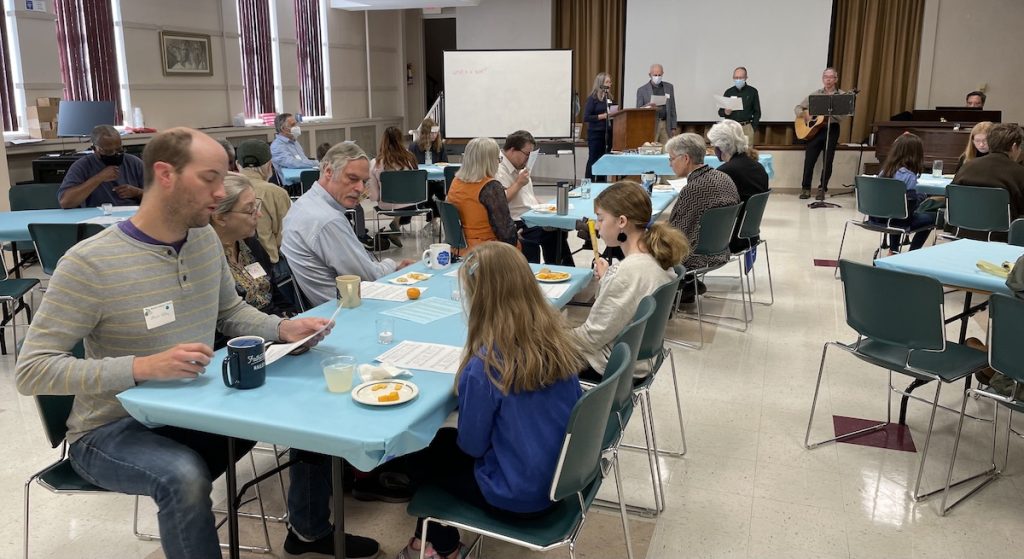 God's Work. Our Hands
See the page under the "Ministries" tab for more information, and stories/pictures of multiple generations serving together!
3. Service/Learning Trip to Albuquerque
Our 2021 trip to Toledo with Service Learning Camps was a FABULOUS faith and friendship-building experience. Building on that success, we decided on another Cross+generational trip for Summer 2023. Our destination is Albuquerque, New Mexico; our dates are July 30 to August 4, and we are working again with Service Learning Camps. Bethel is represented by 8 adults and 4 youth ages 10 to 15. On Sunday, July 23, our travelers (pilgrims?) were commissioned for service by Pastor Roy Ledbetter. Join us after worship on September 24; we'll serve you lunch and tell you all about our trip! How did God show up in Albuquerque?